We had a mellow Valentine's Day weekend. Patrick ran errands for much of the day, including finally selling our Red Dodge Truck!It has been a real albatross. Helena and I hung at home and played and I tried to unwind after hitting the ground running our first full week back, which included a
Drs
appointment with shots for Helena and the Valentine's Theme
Feng
Shui
Class I taught at our local food Co-op (and had to prepare for last minute because I hadn't squeezed it in earlier).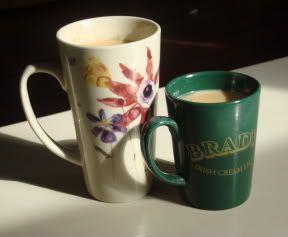 Helena & I had our morning tea in our favorite cups.....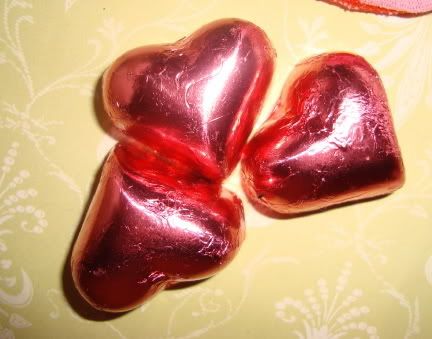 We shared a few simple Valentine's treats...Organic Dark Chocolate, mmmmmmm!

On Sunday Helena spent the day with Meema and Papa (grandma and grandpa, for the lay person) while Patrick and I had a rare date out, doubling with good friend Tony and new good friend Kim (Tony's lovely lady!).
We drove up rt 89 along the west side of Cayuga Lake, did some wine tasting and had brunch at the Crystal Lake Cafe at Americana Vineyards.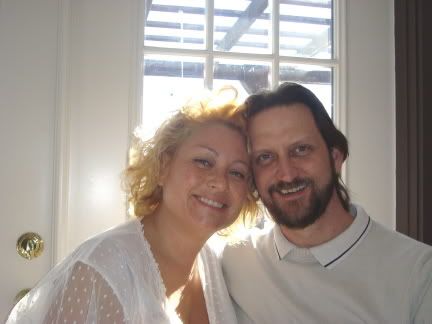 Kim & Tony @ Brunch....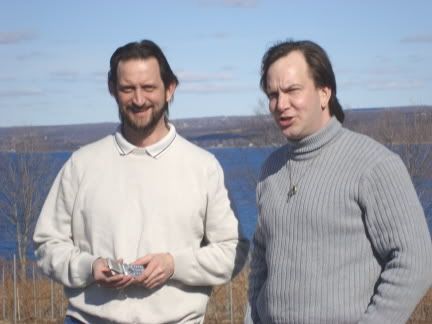 Tony & Patrick outside Thirsty Owl Winery....backed by Cayuga Lake
I actually had no idea the Finger Lakes region of New York had a wine country prior to moving here, and it's something we haven't availed ourselves of nearly as much as I would like. There's a small micro climate along the lakes that is conducive to growing wine grapes, particularly for the German style sweet wines (not my favorite, I'm a dry wine gal myself). Lately they've been venturing into growing some of the dryer wine grapes, with mixed results. We tried a nice wine whose name escapes me at the moment (hmmm, maybe some more wine will jog my memory) made from a new hybrid that Cornell's Ag department produced. The challenge seems to be to produce a dry wine with substance, as a lot of those we tasted seemed rather weak in flavor, although some were quite good. Some, oddly (at least to me, who knows nothing about wine making) taste rather skunky, for lack of a better description.
I think we tasted at 4 vineyards in all, although I skipped the last one....I'm a lightweight and was also already familiar with the lovely wines at Sheldrake Point, which we visted when good friends Dave, Mel & Solaris came to see us last summer.
It was a gorgeous, sunny, clear day, and although this bare time of year is not my favorite, the lake drive is always lovely.
Cherrio, and happy Belated Valentine's to all of our lovelies!